Technology and Capability
Process Controls Of Fabrication
At upstream stage, we choose branding raw materials including UniOhm, Fenghua, Samsung, Yageo resistor and capacitor, TI, NXP, CJ, Toshiba, Fairchild, ST, Quectel, Micron, Infineon IC.
Quality and lead time can be ensured due to our good relationship with these brands general agent. In this way, purchase cost and risk would be reduced at some degree.
Regarding solder paste, we use famous brands Senju and Loctite. Best solder paste will highly ensure soldering reliability during manufacturing course.
Automatic solder paste printing machines make welding spot in uniformity.
The 01005 accuracy of high-speed HITACHI surface mount machines enable good productivity.
Reflow soldering of 10 oven temperatures enables best solution and freezing temperature of solder paste, so to enhance surface mount stability.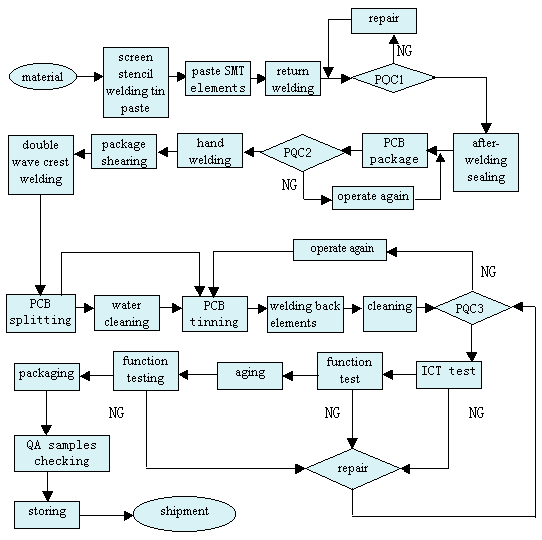 Right manufacturing instruction (MI), total equipment management and maintenance,
Complete RoHS manufacturing processes
Complete process quality control
100% traceability assurance
100% electrical test (powers and short test)
100% functional testing
100% software testing
Lifetime warranty
ESD-safe packaging and shipping
ISO9001:2008 certification
Strict WIP inspection and monitoring as well as working instructions
All these make the whole production process totally controlled
Various precise inspection equipments including the AOI inspection
System as well as perfect WIP inspection instructions and control plan
All these guarantee that semi-products and final products
All reach the requirements of customers' spec